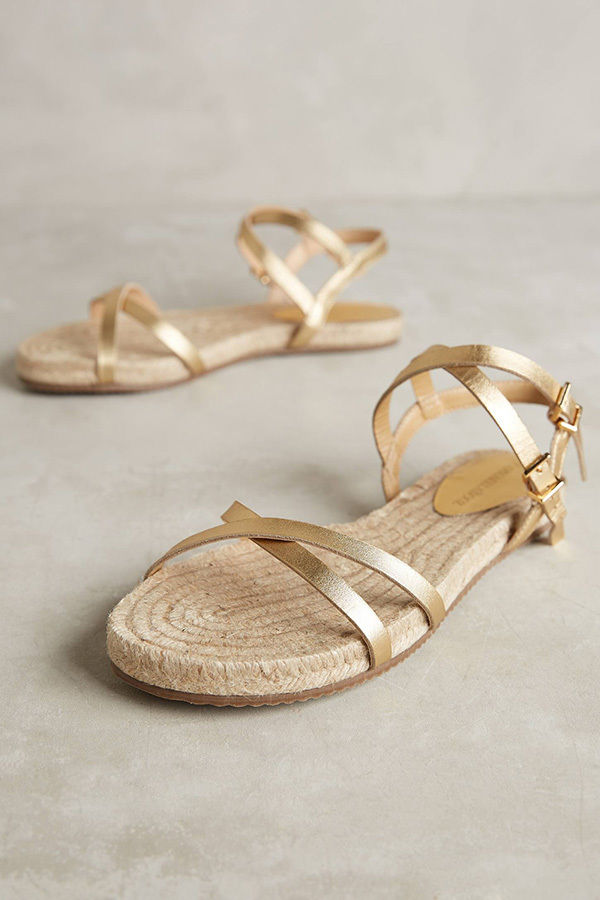 Golden Sandals
These gold strappy sandals are perfect for a beach ceremony, where you don't want to slowly sink into the sand further and further during your vows.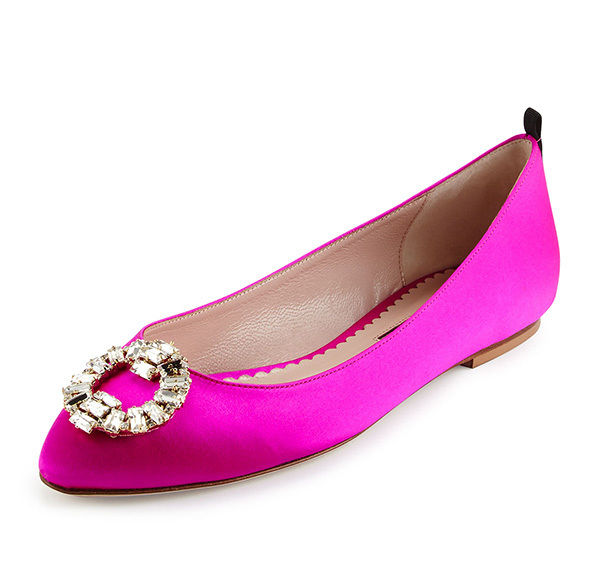 Bright Color
Don't let their demure height fool you. Wedding flats can be just as pretty and powerful as heels, especially in bright pops of color like this hot pink pair.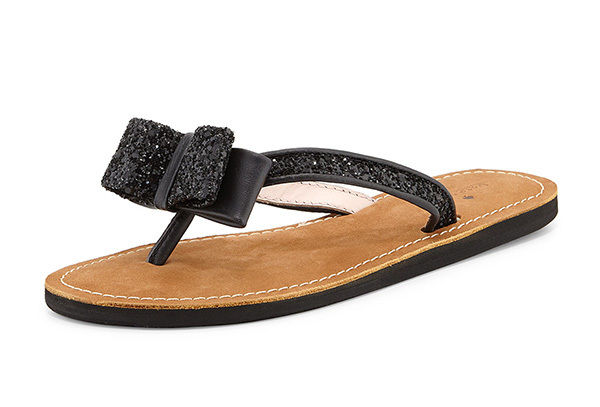 Destination Ready
just because the two of you have flown away to a far flung destination for a romantic elopement, doesn't mean you don't want to wear something pretty. These sparkling bow flip flops are darling, and will later serve as the most glam post-pedicure sandals ever.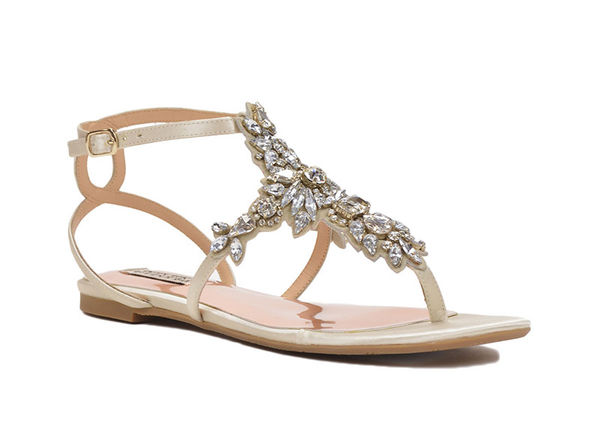 Lots of Embellishment
These strappy wedding flats have been embellished with crystals in a dramatic floral pattern. perfect for weddings on a lawn or patio, these shoes would be gorgeous with a long flowing gown or short and sassy shift dress.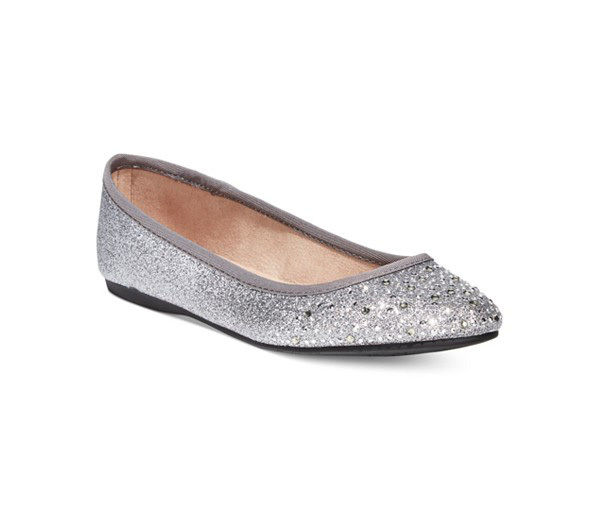 Ballet Flats
Brides that don't normally wear heels often have no desire to wear them on their wedding day. After all, teetering down the aisle in shoes you aren't comfortable in is no bride's fantasy. This pair of silver ballet flats would be a cute companion to a long princess wedding dress, particularly if you are a taller bride that doesn't need the extra height.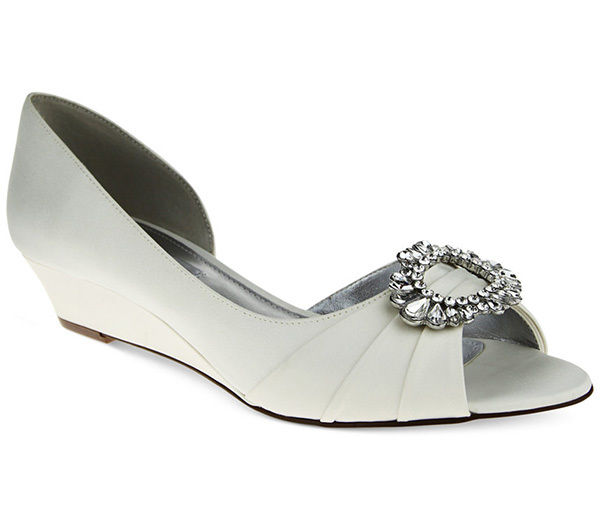 Low Wedge
It's actually easier on your feet to stand in a very slight heel rather than a flat. This elegant and traditional pair of d'orsay wedges look very bridal and will also be truly comfortable to wear.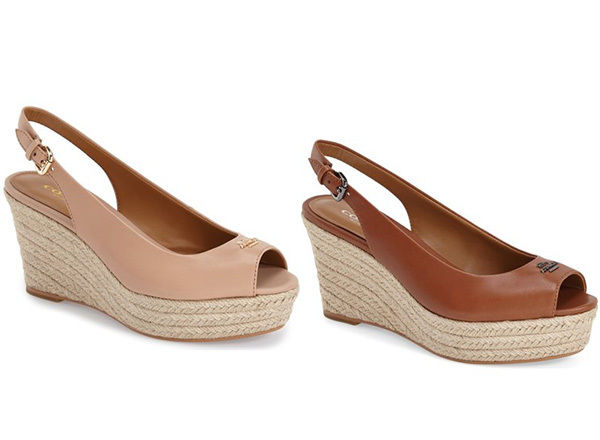 Comfortable Height
For a more casual wedding, consider a shoe that will give you a lot of height, but be almost as easy to navigate in as a flat. platform wedge sandals can give you a sufficient vertical bump, but without the feeling of being scrunched into a pair of heels. Depending upon your skin tone, choose a nude leather that closely matches so that these shoes can also lengthen the appearance of your legs.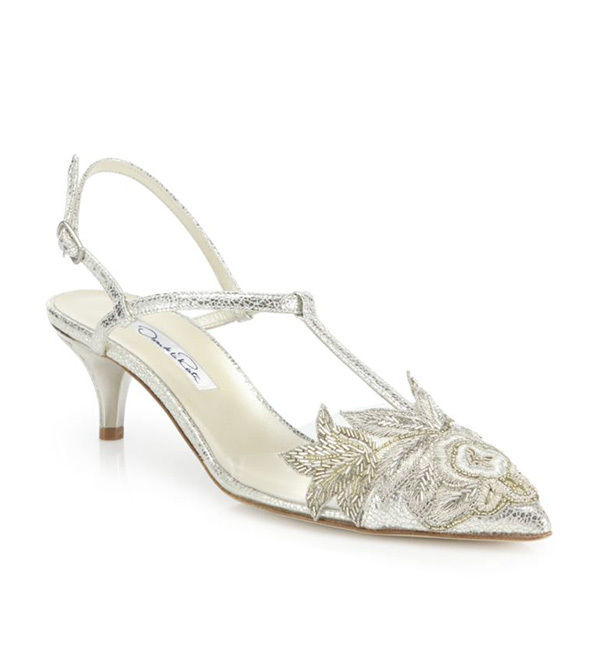 Kitten Heel
Another not-quite-flats option is a kitten heel. Less than 2 inches, this is a beautiful height for a-line and tea-length wedding dresses. And we are completely gaga for the intriciate beadwork on this pair of oscar de la Renta wedding shoes.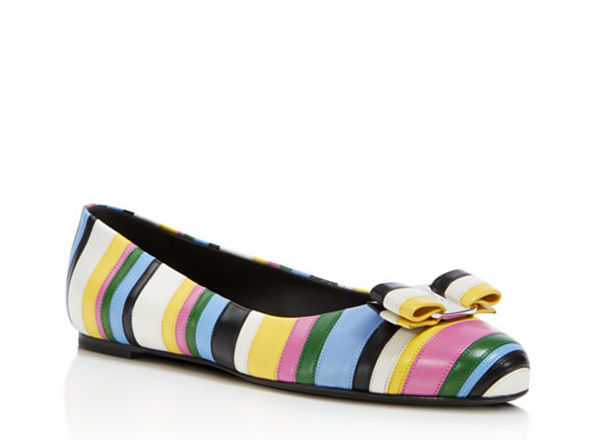 Dancing Shoes
Maybe you want a pair of heels at the ceremony but have no intention of dancing in them all night. Find an eye-catching pair of patterned flats and enjoy your party!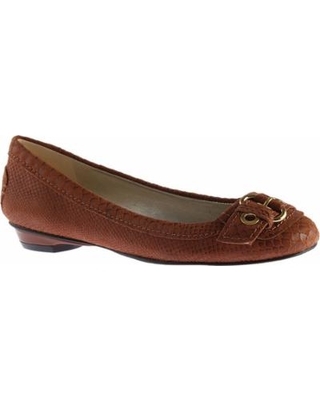 The Right personality
The most important part of finding any wedding accessory is that it match your personality. If you want to represent your classic style, go with something elegant and sophisticated. If you'd rather draw attention to your vivaciousness, find a loud pair of flats with lots of verve!