When it is about the bridal style, we are all ready to break the rules. That, however, does not mean that there donot exist any proven tips that assist you look your best. There are some tried and tested tips for wedding jewelry too. So, for all those who would like getting some guidance to accessorize their wedding gown, here are some useful ideas.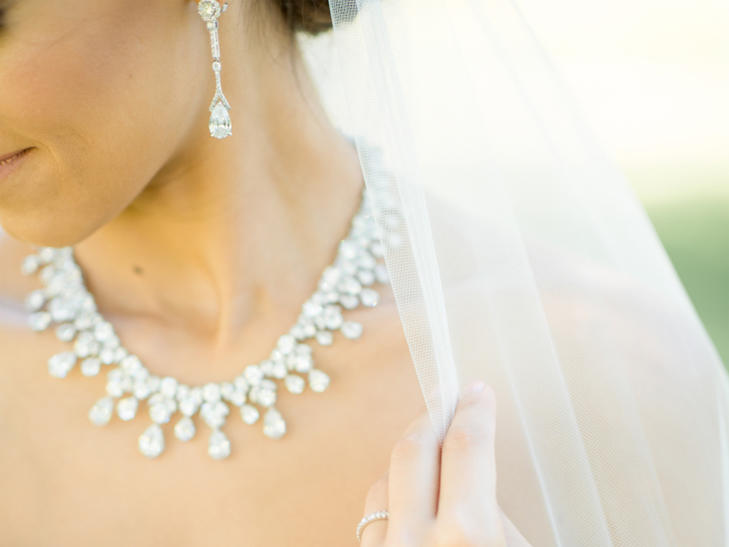 1. Know your limits
The first thing to be careful about when choosing your wedding day jewelry is to avoid going overboard. It might be tempting to load up all the accessories that match your wedding gown, but you would certainly not want to risk getting outshined. Believe in nless is moreo and stick to few key pieces instead of accessorizing each part of your body.
2. Pick matching metals for your dress
Your gown color can well decide whether you should opt for golden or silver jewelry.
l Ivory gown: Gold jewelry is good to enhance this shade.
l White gown: Silver and platinum pieces would make this bright hue look the most gorgeous.
l Champagne gown: Gold jewelry will perfectly compliment this warm tone but burnished silver with rhinestones works good if you want an antique look.
l Blush gown: Rose gold is perfect because of the pink cast that matches with the soft pink dress.
3. Donot ignore neckline
Your wedding gownos neckline plays a good role in face framing. You can enhance its effect by picking the jewelry that pairs beautifully with it.
l V-neck: Specially made for decoration, this neckline goes great with pendant or choker. You can even layer both if choosing delicate pieces. Add earrings, danglers or studs, as suited with your hairstyle.
l Strapless or sweetheart: Use a choker with this neckline to create height and catch attention. You can opt to wear earrings in place of necklace. You can add bangle, bracelet or ring to balance out the things.
l Halter or reverse halter: Consider decorating your hair with vines, pins or combos. These accessories can be floral, bejeweled or sleek, based on what type of effect you want. To add something more, use a cocktail ring or bracelet.
4. Donot get overwhelmed
If you think that choosing your accessories gets more difficult than the gown itself, try finding a piece that you really love and wear that. If you are happy in whatever you are wearing, you will feel confident and that is the best accessory.